Bings economic cues
Brings economic cues, in imitation leather, sturdy and convenient exterior pocket cerniara target objects.
Ideal to hold two kicks and two tips.
Door splints, for three pieces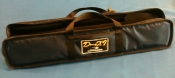 Semi hard padded sticks door with handle and shoulder strap, chalk door exterior pocket.
Division inside pockets for carrying two kicks and three tips.
Brings luxury cues
Semi hard padded sticks door in black imitation leather with comfortable external pockets zipper door objects.
Handles and shoulder strap, convenient to transport four kicks and eight tips.
Handbag splints
Sturdy wooden case lined in imitation leather, with various interior spaces brings the slats and accessories.